Decorative Artists Guild of Southwestern Ohio
An Affiliated Chapter of the Society of Decorative Painters 
The Decorative Artists Guild of Southwestern Ohio (DAGSO) was founded in 1976 by Louise Jackson, MDA, TDA.  The Guild was chartered as a Chapter of the Society of Decorative Painters in 1977.  Our members reside in many counties in Ohio with the majority of members living in the greater Dayton area.
Decorative painting encompasses a wide variety of techniques and mediums including acrylic, oil, watercolor and colored pencil.  Historically, this was commonly referred to as "tole painting" which is the process of painting on tin.  Today's decorative artists continue to paint on tin but have also incorporated many more surfaces including furniture, canvas, porcelain, decorative wood objects and other useful objects.
Membership:
Our members consist of all different painting skill levels.  New members may join DAGSO by paying the annual dues of $20 a year (including $5.00 for postage of the newsletter) or $15 a year if one chooses to receive the newsletter via email.  Dues are payable from October 1st through December 31st of the current year for the next year.  Anyone joining our chapter must become a member of the Society of Decorative Painters as well.  Interested persons may be a guest of DAGSO for two meetings per year by paying the class fees.
Privileges of membership include attendance at all member meetings; the right to participate in all classes, seminars and other activities of DAGSO; a monthly newsletter; a membership name tag; and a membership handbook containing the By-Laws and Standing Rules of Membership.
Ways & Means:
DAGSO earns money for its treasury through monthly membership raffles, special projects and a Christmas craft show called the "Mistletoe Dreams Holiday Boutique".  The treasury is then used to conduct the normal business of the Chapter, procure nationally known teachers and provide the membership with an occasional break on classes.
Philanthropic Projects:
Members of DAGSO participate in many different types of philanthropic projects each year.  Members donate their time, skills, and talents to these service projects.  In 2006 we painted a Fairy Tale mural for the Miamisburg Public Library.  We also paint memory boxes for the local hospitals which go to the parents of babies who have passed away shortly after birth.  In the future, we will paint "Pay it Forward" cards for soldiers injured in the war in cooperation with the VA hospitals.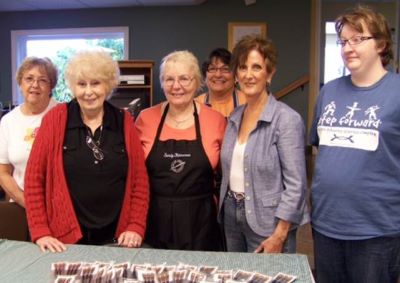 On September 14, 2013, Decorative Artists Guild of Southwestern Ohio's President, Marilyne Fitzgerald, donated $500 in brushes to We Care Arts. We Care Arts, located in Kettering, Ohio, is a non-profit organization that provides manual arts therapy workshop experiences for physically, mentally and emotionally handicapped individuals to enhance their self-esteem and to learn job skills. We Care Arts was grateful to receive the donation of Lowel Cornell Shader and Golden Taklon brushes for their students.
Become a Member - download form