March Watercolor Seminar Sign-up
Louise Jackson, MDA, TDA
March 9 and 10, 2019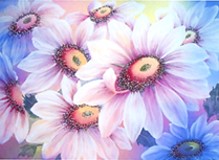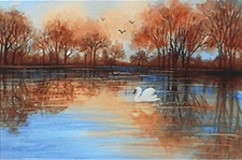 Saturday - "Poured Daisies" and Sunday - "Fall Water Scene with Swan"
Please join us as we welcome our founder and President Emeritus, Louise Jackson, MDA, TDA to DAGSO. Louise is a highly successful decorative artist as well as a fine artist and an experienced workshop instructor both here and abroad. Her approach to teaching is upbeat with an emphasis on pieces that can be taught step-by-step. Louise has been painting since 1965 and has authored more than 23 "how to" books as well as pattern packets. Her passion for painting is enhanced by her love of teaching. She is a very patient, kind and talented instructor.
Date: Saturday - March 9 and 10, 2019
Time: 9:00 a.m. - 4:00 p.m. (after short business meeting)
Location: We Care Arts, 3035 Wilmington Pike, Kettering, OH 45429.
For information please contact: Jean LeBlanc at (937)233-7454 or email: padsnpaws65@aol.com. Send check (payable to DAGSO) & sign-up sheet to: Jean LeBlanc at 5712 Mallard Dr., Huber Heights, OH 45424
For more info and sign-up sheet download the PDF
Disclaimer: DAGSO is neither an affiliate nor a member of WeCareArts