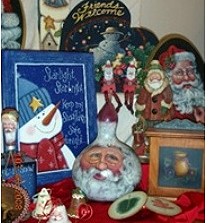 Mistletoe Dreams
Holiday Boutique

Saturday, November 12, 2016
9:00 am – 4:00 pm
Harmony Creek Church
5280 Bigger Road, Kettering, OH 45440
The Decorative Artists Guild of Southwestern Ohio proudly presents their annual holiday arts and crafts show! We offer many unique hand-painted items including Santa, snowmen, Christmas ornaments and framed art work. We also offer floral arrangements, hand sewn items, metal sculpture and more! We will have gift baskets for raffle and silent auction items as well! Come out and shop for that one of a kind item! All items in our show are hand-made for that special quality you want in a gift.
If you are an artisan or craftsperson and would like information on participating in our show, please contact Cindy Sayeedi at (937) 830-3786 or email questions to dagsopainters@sbcglobal.net. All items must be hand-made and participation is on a juried basis only.
To join our patron mailing list for the show please email your name and address to dagsopainters@sbcglobal.net.
For DAGSO members interested in participating in the show please contact Cindy Sayeedi.