May 14, 2016
Lorinda Hull Acrylic Workshop
May 14, 2016
*****Sign-up Early - We will need to get a pattern with instructions to you prior to the class so that you can prepare the surface and trace the pattern.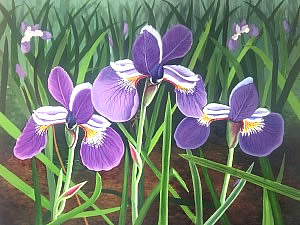 Lorinda Hull will be teaching this beautiful Iris painting with us. Lorinda is a local artist with over 29 years experience in fine arts, photography, graphic arts, webpage design, and creating digital movies.
Date: Saturday, May 14, 2016
Time: 9:00 a.m. - 4:00 p.m. (after a short business meeting)
Location: We Care Arts, 3035 Wilmington Pike, Kettering, OH 45429.
For information please contact: Kathi Hotz at 937-657-7528 or e-mail khotz@woh.rr.com. Send check (made out to DAGSO) and sign-up sheet to
Kathi Hotz, 2275 Bluewing Dr., Beavercreek, Ohio 45431
For more info and sign-up sheet download the PDF
Disclaimer: DAGSO is neither an affiliate nor a member of WeCareArts